Hey, friends! As 2019 comes to a close, I wanted to share a few of my favorite things from this year - different music and movies that I loved for one or another reason. And honestly, it's been a rough year of negativity online, so I'm all about people sharing stuff they love as opposed to having to read yet another opinion piece on why someone or something is the worst of 2019 and blah, blah, blah. We can do better than that, yeah?
Anyhow, without further ado, here a few of my favorite things from this decade-closing year:
MUSIC 
I'm not going to lie, most of the music I listen to is not the hottest, latest releases from artists. I mean, Brandi Carlile's By The Way, I Forgive You still feels fresh to me even though it's from 2018 (and you better believe I'm still listening to it on repeat.) However, there were a few albums this year that are already some of my favorites.
FLIGHT OF THE CONCHORDS - LIVE IN LONDON
Flipping through channels back in 2005, I stumbled across HBO's "One Night Stand" episode featuring two New Zealand fellas casually being hilarious. I became an instant fan, and what a joy it has been to see them come back with such a strong outing. Technically this album is taken from a 2018 recording, but they pushed the record out this past Spring and I've been listening to it front to back at least once a month since then. It has layered jokes that carry across the entire evening, and their musicianship has only improved since their last album. The wild ride that is "Stana" showcases the duos nack for taking songs in surprising directions with hilarious results, and the slow-burn silliness of "Seagull" never fails to put a smile on my face.
CHANCE THE RAPPER - THE BIG DAY
I'm not going to lie, this album is a lot to take in, initially. There are maybe too many songs, with the production bouncing around so much that it seems to lack cohesion between tracks on your first listen. I get and understand all the criticisms of this record... but on my second listen I got swept up in the sheer fun and emotion that Chance pours into every song. The tone switches from sweet to salty and from silly to serious dizzyingly quick, and you're just along for the ride. It may not be everyone's cup of tea, but I for one kept coming back for the surge of joy it brought.
SEAN MCCONNELL - SECONDHAND SMOKE
If you've never heard Sean sing, you are missing out. He is hands down one of the most emotive, soulful singers out there, and his writing has only gotten stronger each album. Empathy, cynicism, belief, nostalgia and uncertainty all collide on Secondhand Smoke, putting the listener right in the middle. If you want a sample of why this record deserves your ears, just listen to the song "Shaky Bridges" and feel the hope and the hurt that Sean so skillfully conveys.
MOVIES
2019 has been one of the strongest years for movies in recent memory... there were easily fifteen or so movies out of the fifty or so that I saw in the theater that I can say were legitimately great. If you want to see a rundown of my full-favorite movie list, hit me up on Instagram/Facebook! Here are a few of my highlights, though.
ONCE UPON A TIME... IN HOLLYWOOD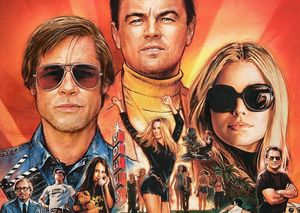 My undisputed favorite movie of 2019 is simultaneously a love-note to L.A and a bygone Hollywood era, as well as a subversion of a violent, cultural milestone, and on top of that, it's a buddy comedy with the most suspenseful sequence in any movie released in 2019. Basically, a movie that only Quentin Tarantino could make. Delivering his most nostalgic film yet, with a darkly comic self-awareness of his problematic style to today's sensibilities, Tarantino puts so much into the film that it takes at least two viewings to soak it all in. The Spahn Ranch sequence will go down as an all-time classic (And Brad Pitt will rightfully pick up an award or two) -and the ending will leave you with such a strong reaction... though what that reaction will be is dependant on your sensibilities. 
AVENGERS: ENDGAME
There will never be another experience in the theater like Avengers: Endgame. The culmination of 23-movies that makes you wonder how the hell they managed to stick the landing... it was epic in every sense of the word. I went opening night and the theater I saw it in had more energy than a rock concert - shouting, laughing, clapping, jumping out of their seats and cheering and ultimately, sobbing their eyes out as we all communally experienced the end of an era. Sure, as time goes by I'll see more of the faults that are bound to be in a movie of this size and scope, but there will never be a movie that loves it's audience 3,000 again. 
STEPHEN KING FILMS - DOCTOR SLEEP, IT: CHAPTER TWO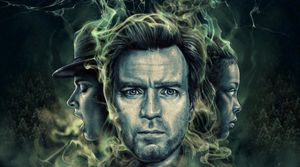 What a year to be a Stephen King fan at the theater. First, we got a perfectly okay adaptation of Pet Semetery, which is what King fans are used to by now, but then It: Chapter Two comes out and while yes, it's messy and has some editing issues and character beats that don't quite land, it's also a lot of fun, with a scene-stealing performance from Bill Hader. If you can get it out of your head that it's a true horror movie and instead think of it is as a psychological-adventure film, I think your expectations will be set in the right place.
As if getting It: Chapter 2 wasn't enough, Mike Flanagan's Doctor Sleep landed two months later and delivered one of my favorite King adaptations of all-time... somehow being a faithful sequel to Kubrick's version of The Shining, as well as a faithful and inventive adaptation of King's book. It also has one of THE best performances of the year by Rebecca Ferguson... she is perfect as Rose The Hat and dominates the screen in every scene she's in. Yes, the movie has some weird-arse Stephen Kingisms that are very much fan service (all things serve the beam, yo) but hopefully, non-King fans can look past that and seek this movie out.
BRING ON 2020 
There you have it, a few of my favorite things from the year 2019... I would love to hear some of your favorites, too, so drop a comment or head to Facebook/Twitter/Instagram and we'll connect! Let's use the internet to build things up as opposed to tearing things down.
Hope to see you soon, friends. 
- CT